2018 Jeep Cherokee Review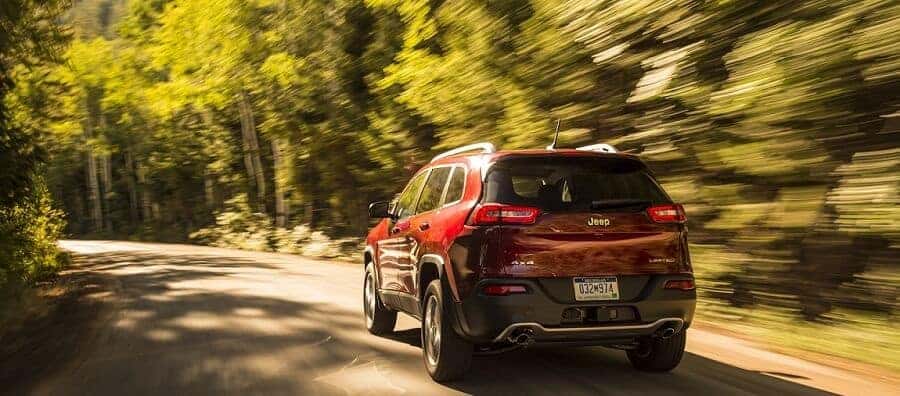 If you're looking to cruise through the streets of Mansfield, Attleboro and Norton in a versatile  vehicle with extra space and superior handling, you need a crossover. With one of these incredible vehicles, you get the best of SUVs and sedans all rolled into one. Crossovers are extremely popular, however, which makes it challenging to find the right crossover for your needs.
One of the best options is the new 2018 Jeep Cherokee. This crossover will serve you well whether you want to drive through the city streets or head off the beaten path. Read our 2018 Jeep Cherokee review to learn about this versatile crossover and discover if its right for you.
Jeep Cherokee Interior
You can really enjoy that extra space with the Cherokee. While most crossovers include a generous amount of interior space, the Jeep Cherokee interior is specifically designed to make every drive an adventure. Choose from an array of color schemes that each represent a real-world place ripe for adventure like the Grand Canyon or Panama. They're available in leather as well.
Before you embark on a long adventure, you need to make sure you have supplies. With the Cherokee, you'll have plenty of room to bring whatever you need with its available 58.9 cubic feet of cargo space. As an added bonus, the essentials are already covered. The Cherokee comes packed with a first aid kit, a storage locker, a roadside assistance kit and even a collapsible cooler. With the Jeep Brand Cargo Management System, organizing and transporting your cargo has never been easier.
Jeep Cherokee Capabilities
When you think of off-road capability, you probably think of Jeep. The Jeep Cherokee fulfills those expectations with its Selec-Terrain feature. With the simple turning of a knob, you can choose between several different driving modes for various terrain like, sand, rock, mud and snow. Your drivetrain will adapt to the selected terrain maximizing your traction. If you want to make the best out of the paved road, simply switch it to Sport mode.
Underneath the hood is an impressive engine that won't quit. The base trim level includes a 2.4-liter engine offering 184 horsepower. If you want even more, upgrade to the 3.2-liter V6 which features an incredible 271 horsepower.
Jeep Cherokee Safety Features
When you venture off-road you increase your risks by quite a bit. Your vehicle needs to be equipped properly should the worst happen. If you travel off-road with the Cherokee, you've already come prepared. The Cherokee itself was built with high strength steel specifically designed to carry kinetic energy around the cabin, so you don't feel the energy from any potential collision. There's also a ten airbag system.
When you're on the road, the Cherokee features numerous driver assistance systems designed to avoid collisions in the first place. Forward collision warning with emergency braking constantly scans the area in front of you and warns you of imminent collisions. If one is detected and you don't brake in time, this smart system can apply the brakes for you.
Test Drive the 2018 Jeep Cherokee
For exceptional performance on and off the road, there's no better crossover SUV than the 2018 Jeep Cherokee. If you want to truly understand everything this incredible vehicle can offer, you must experience it for yourself. If you live in the Mansfield, Attleboro or Norton areas, you can at Station Chrysler Jeep. Our friendly staff will gladly help you find out if the Cherokee is right for you. Visit, call (888) 713-7071 or contact our Jeep dealership online to schedule your test drive today!
View Our Jeep Cherokee Inventory Below!