Car Battery Service Mansfield MA

In need of car battery service near Mansfield, MA? Here at Station Chrysler Jeep, we not only have an inventory of durable batteries to fit a range of models but also a team of trained technicians ready to diagnose and fix any battery issues your car may be experiencing.
How Long Does My Car Battery Last?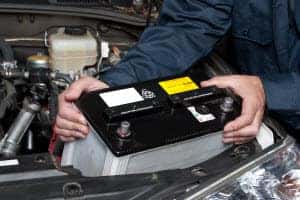 Depending on your model, driving conditions, and other factors, the battery in your car can last anywhere from two to five years. Therefore, it's important to look out for warning signs telling you that your battery is losing its power.
You may notice that your headlights are dimmer than usual, the engine takes longer to start up, or that there is an icon on your dashboard that looks like a battery. These are all signs your battery needs to be serviced before it is completely out of juice.
When this happens, you can schedule to have your battery serviced with us. Our technicians can test your battery to determine if it needs to be replaced immediately or see if there is any other issue with the electrical system of your vehicle.
Why You Should Have Your Battery Replaced by Our Technicians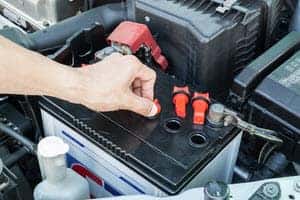 With their professional training and years of experience, our technicians will be able to correctly and quickly replace the battery in your car for you. Although you can do this job at home, having a professional perform this service is wise for multiple reasons.
Our technicians know the exact type of battery that is optimal for your specific model to help all its systems properly work. The batteries we carry are also durable and designed to last as long as possible.
Working with the car battery also deals with a lot of electrical components, which our technicians are trained on how to safely operate. All the wiring from your battery to the various parts of the car that rely on its charge also can experience damage that isn't easily seen. That is why they'll inspect all these components to ensure that they are all in great, working condition.
Don't Miss a Beat While We Work on Your Car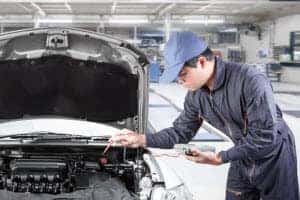 When you bring your car to our service department, our trained technicians make sure to carefully service your vehicle and get it back to you as soon as possible. In the meantime, we provide you with free Wi-Fi to continue to get work done or complete tasks on your to-do list.
If you have another appointment you have to get to, our shuttle service can take you there. We understand that you rely on your car to keep you on schedule, so we make sure we help keep it well maintained and get it back to you quickly.
Schedule Your Battery Service Today
Whether you've been experiencing issues with your battery or think it is time to get your car's battery replaced, we're here to help at Station Chrysler Jeep. Schedule service online or give us a call to get your car battery serviced at your earliest convenience.