Work Up A Sweat at These Cycling Classes near Attleboro MA


Are you ready to ride? We put together this list of the three best cycling classes near Attleboro to get your heart pumping and blood flowing. Whether you're searching for some alone time with the bike or want a fun group experience, these gyms have you covered!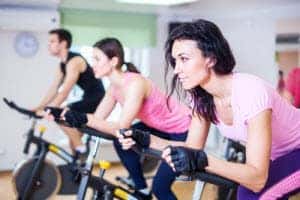 Cycle Life Studio prides themselves on catering to all levels of experience whether it's your very first time or you're an experienced cyclist. You can enjoy a variety of different training programs on their state-of-the-art stationary bikes.
If you are training for a triathlon or an outdoor bike race, their experienced staff have designed programs to improve your performance while you're in the studio and out. A registered dietician is waiting to sit down with you to discuss your goals and help you design a fueling plan for your next race.
The best part is that you can bring your children along! Cycle Life Studio offers an in-studio child playroom staffed with friendly and dedicated babysitters. Children from six weeks to ten years of age can enjoy this playroom packed with toys, books, and other entertainment. Drop your kids off and fully enjoy your workout knowing they are in good hands.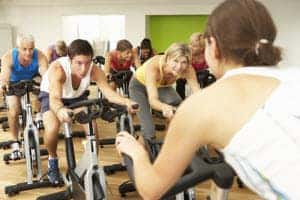 Working out should be fun, and thanks to the individual and group training sessions at Fitness 1440 you can work up a sweat while having a great time. Fitness 1440 features a comprehensive cardio area complete with stair climbers, arc trainers, and rowing machines. To satisfy lovers of cycling, they offer recumbent bikes, upright bikes, and expresso bikes.
If you are searching for a fast-paced, exciting group work out, 1440Function is the class to try. These small group personal training sessions help you to build muscle and cardiovascular endurance.
After you've worked up a sweat, you can visit their delicious juice bar. All of their smoothies and juices are 100% organic, so you don't have to worry about spoiling all that hard work you just did!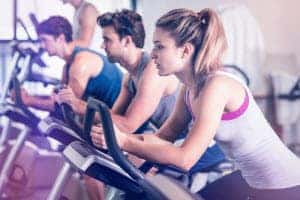 Get your heart pumping at Fit Factory! They offer Group FIT programs, including cycling, to give you a fun and thorough workout. In addition to their fast-paced, exciting cycle classes, Fit Factory offers a variety of fresh classes led by enthusiastic instructors. You can enjoy Pilates, kickboxing, and pound classes (a heart-pounding cardio jam session)!
Unique to Fit Factory are their Functional Fitness Interval Training programs. They are designed to combine exercises that stimulate day-to-day activities with alternating times and speeds to strengthen your entire body and improve heart health. These classes provide hands-on coaching in a comfortable group environment.
Unwind after your workout in one of their ultra-relaxing sauna and steam rooms, perfect for soothing your sore and tired muscles.
Get Your Sweat On near Attleboro MA!
These three fitness facilities have all your workout needs covered from cycling classes to more individualized sessions. Visit them today to see their energetic, friendly environments firsthand. Make sure to follow them on Facebook to see their weekly class schedules and any promotions they may currently be running.