Frequently Asked Questions When Buying Used

The process of picking out and buying a used car is a fun and exciting process. Whether you're a first-time buyer or consider yourself a seasoned pro, there are several important questions to ask and consider before signing your name to a vehicle.
To help drivers throughout Mansfield, Attleboro, and Norton feel more confident when visiting our dealership, the team at Station Chrysler Jeep created this list of frequently asked questions when buying a used car. Continue reading to learn more!
What to Check When Buying Used?
The first step a person should always take before test driving a used vehicle is to review its vehicle history report. You can acquire this report directly from the dealership or by using a third-party site like CARFAX® or AutoCheck®. Inside the report you'll find a comprehensive list including:
Ownership history
Service and maintenance history
Prior accidents or damage
Along with the title and registration history. You should also check the vehicle's VIN or vehicle identification number to make sure it matches the vehicle's make and model. Once you're at the dealership, you should take the vehicle for a test drive to see how well it performs on the road, and check that the interior electrics and other features are in good standing. You should also do a quick inspection of the vehicle's exterior including:
Exterior lights and reflectors
Tire tread and sidewalls
Front and rear windshield
…as well as look for any scratches, dings, or other obvious signs of wear and tear.
Best Month to Buy a Used Car?
While certain holidays offer the opportunity to snag a nice deal, the best times to buy a used car tend to happen when the dealership is trying to offload their old inventory to replace them with newer models. November and December, specifically the weeks between Thanksgiving and New Year's, is often a slower time for dealers and when special end-of-year rebates are offered.
What Are the Fees When Buying a Used Car?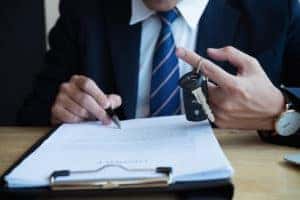 Once you take a test drive and negotiate a fair price, often there's usually some additional fees you should keep in mind. These can include title and registration fees, documentation or "conveyance" fees for processing paperwork, state sales tax, and even a destination fee if the vehicle needs to be shipped for delivery.
Titles and state sales tax will vary by state. In some cases, the documentation fee can be waived but it's never a guarantee, so you should make plans to pay for it at signing.
What Should I Know When Buying a Used Car Out-of-State?
While traveling outside your local area might score you a good deal, there's a few things you'll have to do before crossing back over the state line. If the sales tax in your home state is higher than the state where you bought the used car, you might have to pay the difference.
You'll also get hit with any local sales taxes, so make sure to check before your visit. You might also have to show proof that the vehicle passed an emissions test, or pay for one, before the title and registration can be transferred.
Explore Our Inventory of Used Cars Today!
If you're a driver living near Mansfield, Attleboro, or Norton, interested in learning more about our extensive line of quality used vehicles, stop by Station Chrysler Jeep or go online to schedule a test drive today!