Jeep Cherokee Dashboard Light Guide

The Jeep Cherokee is one impressive vehicle. Its capabilities on and off the pavement make it a favorite among drivers in Mansfield, Attleboro, and Norton. However, with so many features and capabilities to offer, there's a lot of potential lights that could come on the dashboard.
To help drivers in the area better understand what these important dashboard lights mean, we at Station Chrysler Jeep have put together this detailed Jeep Cherokee dashboard light guide. Read ahead to learn more!
Jeep Cherokee Indicator Lights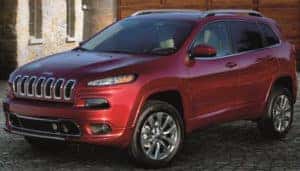 Your new Jeep Cherokee is equipped with several indicator lights on its dashboard. These symbols exist simply to let you know when a feature or system in your Cherokee is on or in use. Some indicator lights you might see in this model are as follows:
Cruise Control Ready Light – This light, which is shaped like a speedometer with an arrow, will pop up on the dashboard when this feature is turned on and is ready for you to set a speed.
ECO Mode Light – When your Cherokee is in ECO mode, a light that says "ECO" will light up.
High Beam Light – Having your high beams turned on will cause a light on your dashboard shaped like a half circle with horizontal lines next to it to light up.
LaneSense Light – If your Cherokee is equipped with LaneSense, you'll know it's on when a light depicting a car going diagonally across its lane lines comes up.
Stop/Start Active Light – A Cherokee equipped with Stop/Start technology will also have a light depicting an "A" inside an open circle that tells you when you're in Auto-Stop mode.
Jeep Cherokee Warning Lights

In addition to the Cherokee's many indicator lights, you'll also see several warning lights. These symbols, unlike the indicator lights, let you know when something is wrong and needs to be looked at or serviced. The Cherokee's key warning lights include:
Airbag Light – This warning light, which is shaped like a man with a circle in front of it, lets you know when there's a problem going on with the airbag system.
Battery Light – If your Cherokee's battery isn't charging correctly, a battery-shaped light will pop up on the dashboard.
Door Open Light – When you get in your Cherokee and don't shut a door the whole way, you'll get a warning via a light shaped like a vehicle with a door open.
Engine Light – If your engine is having an issue, it'll let you know by lighting up an engine-shaped light on the dashboard.
Low Fuel Light – Running out of gas can be disastrous—and that's why your Cherokee will let you know before you do with a dashboard light shaped like a gas pump.
Oil Temperature Light – A light shaped like an oil can with a thermometer in it will light up if your engine oil is at too high of a temperature.
Tire Pressure Monitoring System Light – The tire pressure monitoring system will let you know if one of your tires doesn't have enough air in it by lighting up a dashboard light shaped like a tire with an exclamation point in it.
Still Have Questions?
If you still have questions about any of these symbols or you're seeing a light that you still can't identify, don't hesitate to give us a call to schedule a service appointment at Station Chrysler Jeep! We're happy to help Jeep Cherokee drivers in Mansfield, Attleboro, and Norton.