Jeep Compass Dashboard Light Guide
Your Jeep Compass is equipped with a number of supportive features that help you keep on top of your vehicle's problems. One of these features is your Compass' dashboard, which features a variety of lights that keep you up-to-date on what's going on in your vehicle.
To help drivers in Mansfield, Attleboro, and Norton decode their dashboard, we at Station Chrysler Jeep have put together this helpful Jeep Compass dashboard light guide. Read ahead to learn more about what the lights on your dashboard mean!
Jeep Compass Indicator Lights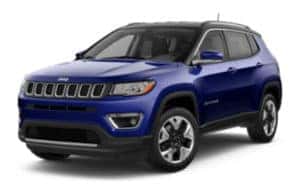 Your new Jeep Compass has several indicator lights that are designed to let you know when a system or part of your vehicle is on or in use. Some of the Compass' indicator lights are as follows:
4WD LOW Light – If your Compass is equipped with 4-wheel drive LOW mode, you'll see a light come up saying "4WD LOW" light up when it's on.
Cruise Control Light – When you're using cruise control, a light depicting a speedometer with an arrow will come up.
Electronic Stability Control Light – This light, which is shaped like a car with swerving tread marks, will light up when this system is turned on.
Forward Collision Warning Light – Rather than lighting up when this optional system is on, a light saying OFF will appear under another light depicting two vehicles about to collide with each other to tell you the system is not on.
High Beams Light – Turning your high beams on will cause a light shaped like a half circle with horizontal lights next to it to come on.
Hill Descent Control – A light shaped like a vehicle going downhill will let you know that Hill Descent Control is on.
Jeep Compass Warning Lights

On top of your Compass' many indicator lights, this vehicle is also equipped with several warning symbols to let you know when something is wrong. A few of the Compass' warning lights include:
Anti-Lock Brake Light – A light saying "ABS" will light up when your anti-lock brakes are malfunctioning.
Battery Light – When a problem with your battery occurs, you'll be the first to know when a warning light shaped like a battery comes up.
Engine Light – An engine-shaped light will illuminate when something is wrong with your engine.
Forward Collision Light – If your Compass has a Forward Collision Warning System and you're potentially going to collide with the car in front of you, a light showing two vehicles about to collide will light up.
Low Fuel Light – If your Compass is running low on fuel, a light shaped like a gas pump will let you know that you need to fuel up before it's too late.
Oil Pressure Light – Low pressure in your oil system can cause damage to your engine, so a light shaped like an oil can will pop up to let you know you likely need an oil change.
Seat Belt Reminder Light – If someone isn't buckled in, your Compass will let you know with a light shaped like a passenger wearing a seatbelt.
Tire Pressure Monitoring System Light – When your Tire Pressure Monitoring System detects that one of your tires is low on air, it'll let you know by lighting up a light shaped like a tire with an exclamation point.
Transmission Temperature Light – If your transmission is overheating, you'll know because a light showing a thermometer inside a gear will pop up on the dashboard.
Still Have Questions?
Seeing a light that's not mentioned in this guide or notice your Compass experiencing another problem? We have you covered! Drivers in Mansfield, Attleboro, and Norton should give us a call at Station Chrysler Jeep today with any questions they may have or to schedule service.