Jeep Compass vs Cherokee
When you're cruising through the streets of Attleboro, Mansfield and Norton, do you find yourself needing extra cargo space and off-road capabilities? If you don't want to sacrifice the fun performance you deserve, your best bet is a crossover. Many off-road capable crossovers are available on the market, but only Jeep can be considered the masters of off-roading.
Jeep offers two crossovers that will undoubtedly work for you, the 2018 Jeep Compass and the 2018 Jeep Cherokee. Both have a lot to offer but only can be the one for you. Learn about their differences and find out which serves your needs better in our comprehensive Jeep Compass vs Cherokee comparison.
Jeep Compass vs Cherokee Performance
If you're looking for power in your crossover, you'll find plenty in each of these Jeep models. However, the 2018 Cherokee offers a bit more with its 184 horsepower base engine compared to the Compass' 180 horsepower. The Cherokee can be upgraded even further to a 271 horsepower V6 while the Compass' 2.4-liter 4-cylinder engine is the only one available.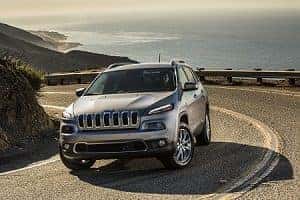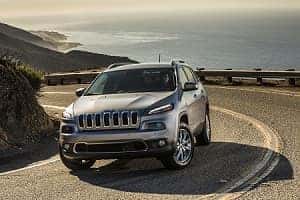 All that extra power comes with slightly lower fuel efficiency than the 2018 Jeep Compass. The Compass offers an EPA-estimated 31 mpg highway and 22 mpg city. The Cherokee offers an EPA-estimated 28 mpg highway and 21 mpg city. If you get the V6, the Cherokee then offers 27 mpg highway and 20 mpg city.
Jeep Compass vs. Cherokee Interior
The Cherokee is physically larger than the Compass. You'll find more room behind the wheel in the Compass with its 41.8 inches of legroom compared to the Cherokee's 41.1 inches of legroom. However, rear passengers will notice a difference as the Cherokee features 40.3 inches of interior rear legroom while the Compass offers 38.3 inches.
If you plan to carry more cargo than passengers, the Compass is the choice for you. With 59.8 cubic feet of cargo space when you fold the rear seats down, the Compass outclasses the Cherokee by a hair since the Cherokee can only hold 54.9 cubic feet of cargo.
Trail Rated Tough
The Trail Rated badge indicates that a vehicle has passed vigorous testing of off-road capabilities. The Cherokee Trailhawk passed with flying colors along with the Compass Trailhawk. Both feature enhanced traction and articulation that work to keep all four wheels on the ground at all times and avoid wheel slip and other traction issues. The Compass is a bit more maneuverable, however with a turning diameter of 36.3 feet while the Cherokee requires 37.7 feet.
2018 Jeep Compass vs 2018 Jeep Cherokee
Both models in our Jeep Compass vs Cherokee comparison are impressive, but the best depends on what you value more. If you want raw power, the Cherokee is the best option, but the Compass has more room for cargo. Whichever one you opt for, you can be confident they can conquer tough off-road challenges. Give them both a try at Station Chrysler Jeep when visiting our showroom or browsing our inventory of Jeep models online. Our friendly team is more than happy to show you the ins and outs of each. Visit us in person or contact us online to schedule your test drive. We look forward to working with you!