Jeep Grand Cherokee vs Toyota 4Runner

Many drivers in the Norton, Attleboro and Mansfield areas are foregoing the popular midsize sedan in favor of the versatile SUV. There are many reasons for choosing an SUV over a sedan – there's more storage, more power, a higher viewing position and more. With so many different SUVs to choose from, however, how do you know which one is right for you?
Among the most popular choices are the 2017 Jeep Grand Cherokee and the 2017 Toyota 4Runner. Both are impressive SUVs, but which one is best? Compare the Jeep Grand Cherokee vs. Toyota 4Runner, and discover which is the superior SUV in the way of comfort, safety and performance.
Comparing Safety
Having a nice SUV to drive is one thing, but the most important aspect of any vehicle is keeping you safe. SUVs are notorious for their high rollover rates, so you need to make sure that whatever SUV you buy can keep you safe from the dangers of the road.
Both of these SUVs are fairly safe with their perfect 5 star ratings in side barrier and side crash tests, but the other ratings aren't the same. The Grand Cherokee continued its perfection streak getting 5 stars in its overall frontal crash rating. The 4Runner, on the other hand, only got 4 stars. In addition, the 4Runner only scraped 3 stars on its rollover rating while the Grand Cherokee earned 4, making the Grand Cherokee the clear victor in terms of safety.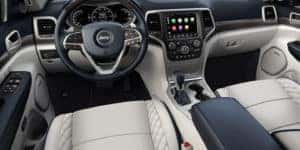 Jeep Grand Cherokee vs Toyota 4Runner: Off-Roading
You have an SUV, so why not have some fun? SUVs are better than other vehicles when it comes to conquering rough terrain, and the Grand Cherokee and 4Runner don't disappoint. The 2017 Jeep Grand Cherokee holds true to the Jeep brand and features quadra-lift air suspension, which can change the height of the Jeep to fit whichever scenario you need. The air suspension can offer 10.6 inches of ground clearance at its highest setting.
The 4Runner is marketed as an off-roader, and with its off-road shocks and grappler tires, it does a good job, but simply doesn't match up to the Grand Cherokee made by Jeep – the creators of superior off-roading vehicles.
Jeep Grand Cherokee vs. Toyota 4Runner Fuel Efficiency
SUVs can be a bit more expensive when it comes to gas. However, some SUVs are better than others, and it's important to save money wherever you can. No one really enjoys going to the gas station and watching their hard-earned cash fill up the tank, but with the Jeep Grand Cherokee, you'll be going there less.
The Grand Cherokee gets an EPA-estimated 21 mpg combined, while the 4Runner only gets an EPA-estimated 18 mpg combined. In addition to winning mpg, the Grand Cherokee also has a larger tank, so when you fill up, it will last you quite a while. While the 4Runner may come close in terms of off-roading capabilities, it's not even a competition when it comes to fuel economy.
Test Drive a 2017 Jeep Grand Cherokee Today
The 2018 Jeep Grand Cherokee is the clear victor in this battle of the off-roading SUVs. However, you can't really know the full extent of a vehicle's capabilities without getting behind the wheel and going for a test drive. Our experts are eager to help all drivers in the Norton, Attleboro and Mansfield areas find the vehicle that best suits their unique driving needs. Visit Station Chrysler Jeep and peruse our wide inventory to find the perfect car for you. For more information about our inventory or services, contact us today!