Jeep Renegade Maintenance Schedule

Your Jeep Renegade is a capable, versatile vehicle that can serve a variety of driving needs, but only if it's properly cared for. With the right repairs and maintenance, your Jeep Renegade can last you for years.
At Station Chrysler Jeep, we're always happy to help our customers in Mansfield, Attleboro, and Norton, which is why we put together this handy Jeep Renegade maintenance schedule guide. Read ahead to learn more about the maintenance that your Renegade will need!
Regular Maintenance
Regular maintenance will form the service foundation for all vehicles, from high-performance sports cars to heavy-duty pickup trucks. In this respect, your new Jeep Renegade is no different. Your Renegade will need an oil and oil filter change every six months as well as the inspection of your battery, brakes, engine cooling system, and exhaust system.
Your Renegade should also receive the following maintenance services on the schedule below:
| | | | |
| --- | --- | --- | --- |
| Maintenance Services | Every 10K Miles | Every 20K Miles | Every 40K Miles |
| Check tire wear and replace if needed | X | | |
| Replace cabin filter | X | | |
| Check on and top off all fluids | X | | |
| Visually inspect exterior, including body, windshield washer system, and wheels | | X | |
| Visually inspect brakes and replace parts if needed | | X | |
| Replace engine air filter | | X | |
| Replace brake fluid | | | X |
| Inspect the rear differential fluid and adjust if needed | | | X |
| Visually inspect accessory drive belt | | | X |
| Inspect the PTU (Power Transfer Unit) fluid level | | | X |
At 10 years or 150,000 miles, whichever comes first, your Renegade will also need to have its engine coolant flushed and replaced.
Special Approach to Jeep Maintenance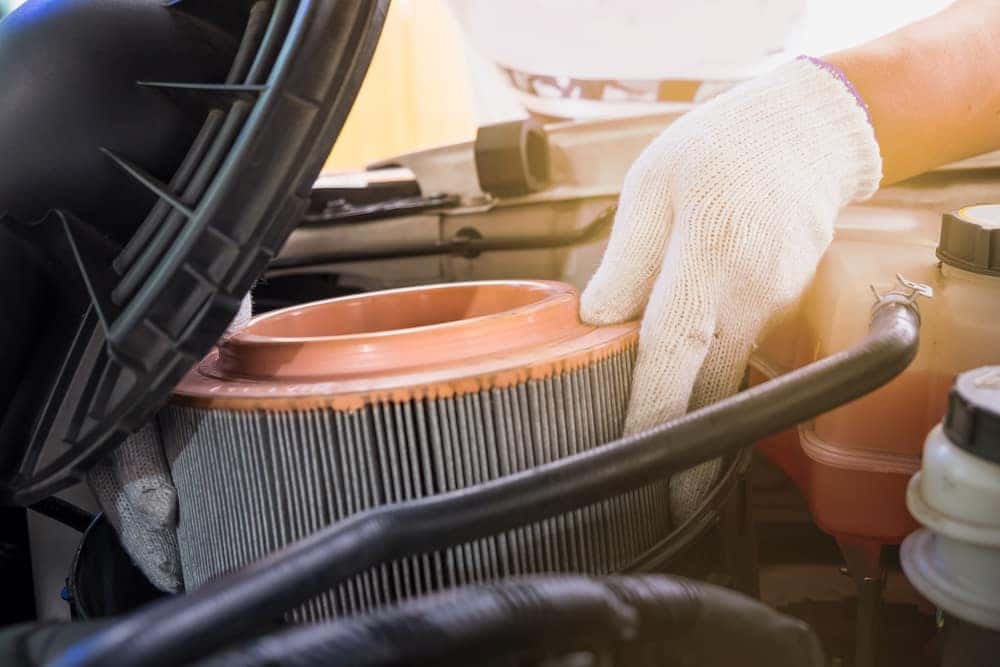 Many Jeep owners choose these vehicles for off-roading or heavy-duty use, which can put additional stress on your vehicle and lead to more frequent maintenance. Before and after off-roading, you should…
Check your tire pressure.
Check your wheel weights.
Make sure that your brakes are cleaned out.
Check and clean your air filter.
Check your wheel alignment.
In addition to off-roading, there are many driving conditions that can cause unusual wear and tear to your vehicle. Stop-and-go driving, low-speed driving, towing, hauling, and driving in extreme conditions all add more stress to your vehicle.
If you're unsure about your Renegade's ideal maintenance and want to be sure that you're giving it the care it needs, speak to a technician about your driving conditions and get a professional opinion on your vehicle's service needs.
Schedule Service for Your Jeep Renegade!
Whether your Jeep Renegade is for a daily commute or for hitting the roughest of trails, routine service and maintenance is the best way to ensure it's always in the condition to perform for you. We hope that this Jeep Renegade maintenance schedule helped you understand a little more about your vehicle's service needs, so you're prepared to give it the proper care.
If you're in Mansfield, Attleboro, or Norton and wondering about your Jeep Renegade maintenance schedule, Station Chrysler Jeep can help. Our Jeep service technicians will be happy to take a look at your Renegade and give you advice about its ideal maintenance schedule, so you can be sure it's in peak condition. Call or stop by our dealership today to schedule your service appointment!