Jeep Wrangler Unlimited vs Toyota 4Runner

Ready for some off-road adventures in the Attleboro, Mansfield and Norton areas? You'll need a vehicle that can handle it. There are numerous off-roaders on the market today making their mark among several different classes of car. With so many options, finding the right vehicle for your needs can be challenging.
Two premium off-roaders that stick out among the rest are the new 2018 Jeep Wrangler Unlimited and the 2018 Toyota 4Runner. Both perform well off the beaten path, but which is best for you? Find out in our comprehensive Jeep Wrangler Unlimited vs Toyota 4Runner comparison.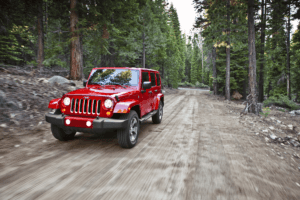 Off-Road Capabilities
Let's address off-road capabilities right away. The 4Runner is pretty impressive with its TRD Pro model featuring high performance shocks and a skid plate. It includes four-wheel drive as you'd expect complete with traction control systems. All in all, the 4Runner presents itself as an incredible off-roader. No matter how incredible an off-roading vehicle can be, other makes simply can't match the capabilities of Jeep.
Jeep has earned its reputation for making the best off-roading vehicles, and the new Wrangler Unlimited only enhances that legacy. Trail rated tough from the get-go, the Wrangler Unlimited is prepared to conquer any challenge thrown in its way. With the 4Runner, you have to upgrade for the off-roading features, but the Wrangler Unlimited is ready to go with everything and more right from the beginning.
Jeep Wrangler Unlimited vs. Toyota 4Runner Specs
Even though the Wrangler is physically smaller than the 4Runner, it features a bigger engine. Both are packing V6s, but the Wranglers can offer 285 horsepower while the 4Runner can only manage 270 horsepower. Despite that difference, the Wrangler is a bit more efficient earning an EPA-estimated 21 mpg highway compared to the 4Runner's 20 mpg highway.
Both vehicles feature terrain management systems that can optimize performance over certain obstacles. The 4Runner's Multi-Terrain Select features four different levels to choose from going from light to heavy. However, the each of the Wrangler Unlimited trim levels can be catered to specific environments when modes specifically designed for mud, sand, snow and rock.
Jeep Wrangler Unlimited vs. Toyota 4Runner Interior
If you plan to take some friends on your next adventure, they'll probably have a better time in the Wrangler. The 2018 Toyota 4Runner has a generous amount of space with 38.6 inches of rear headroom, but their 32.9 inches of rear legroom leaves a lot to be desired. The 2018 Jeep Wrangler Unlimited, on the other hand, offers your rear passengers 40.4 inches of rear headroom and 37.2 inches of rear legroom. With that much of a difference, your friends will definitely take notice.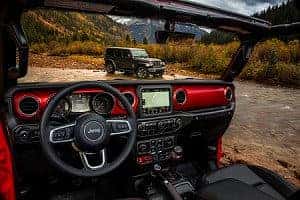 2018 Jeep Wrangler Unlimited vs 2018 Toyota 4Runner
While our Jeep Wrangler Unlimited vs Toyota 4Runner comparison was close, the 2018 Toyota 4Runner simply can't compete with the 2018 Wrangler Unlimited. Jeep remains as the premier make if you're looking for off-roading adventures you can count on. Stop by Station Chrysler Jeep to get your hands on one today. Our friendly staff can show you all the ins and outs to help you determine whether or not it's right for you. Visit our showroom in person or contact our Jeep dealership online for more information. We look forward to working with you!