Jeep Wrangler vs Toyota FJ Cruiser

Designed to pull off-road enthusiasts away from the iconic Jeep Wrangler, the Toyota FJ Cruiser had an important place in its segment for many years. Though it was last produced for model year 2014, the FJ Cruiser is still popular for those looking for used off-road vehicles for sale.
The Wrangler has continued its reign to the modern day. In this Jeep Wrangler vs. FJ Cruiser comparison, drivers across Attleboro, Norton, and Mansfield, Massachusetts, can see how they measure up! Contact our team at Station Chrysler Jeep to learn more.
Wrangler vs FJ Cruiser: Exterior Features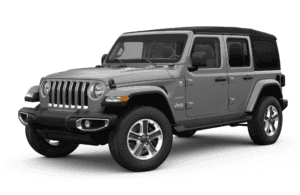 If you squint at the 2020 Jeep Wrangler and the used Toyota FJ Cruiser, they might look nearly the same. These SUVs were made for the same purpose, so similar designs make sense. However, there's no doubt the Wrangler has had more time to perfect a modern look—and that sleek 7-slot grille!
Let's start where they're similar: They strike a hard-to-find balance when it comes to feeling capable yet not too rugged—not to the level of your typical full-size pickup truck, anyway. The FJ Cruiser often used two-toned paint designs for a dynamic look. The white tops would contrast with the body colors.
Many 2020 Wrangler models share the two-tone look, though usually due to the black fabric removable roofs rather than multiple paint tones. And this draws us closer to a big difference between the vehicles: configurability.
Only the Jeep Wrangler can transform into an off-road convertible! Remove the doors, fold down the windshield, and retract an available Sky One-Touch™ Power Top. Prepare for the open-air adventure of your wildest dreams!
Interior Features: Modern Leather Luxury
There's been a move toward the upscale in vehicles in recent years—even rugged off-roaders. The old FJ Cruiser had a simple dashboard: a stereo system with oversized controls and lots (and lots!) of plastic. At the time, the expectation was that you'd be wearing gloves, hence the large controls.
In the modern world, touchscreens reign supreme—and so does the available Uconnect® 4C NAV in the Jeep Wrangler interior. It features an 8.4-inch touchscreen and can connect your smartphone seamlessly! With standard Apple CarPlay® or Android Auto™, put your apps at your fingertips.
If you needed directions in the FJ Cruiser, you'd need to stick a GPS system on the windshield. However, Uconnect® 4C NAV in the Wrangler provides an integrated navigation system. Find your destination with more clarity and fewer wrong turns along the way!
The modern Wrangler makes leather one luxury you can't afford to miss! The available stitched leather dash has a rugged appearance that combines classic heritage with quality.
Two Off-Road Wonders Head to the Trails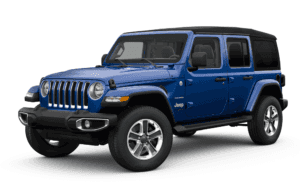 While many drive the 2020 Wrangler and the used FJ Cruiser on the pavement, it's the trails where they really shine. They share several features to help make every off-road adventure a breeze.
Their available 4×4 systems, for instance, are available in part-time and full-time 4-wheel drive setups. Electronically locking rear differentials are also available, so you can keep your wheels spinning at the same speed even when you're "wheel deep" in mud!
The Wrangler has more impressive off-roading angles. Its advantage in approach and breakover angles means the Jeep SUV can climb steeper obstacles and pass over more complicated ones on a flat plane. Rock Mode on the Rubicon's Selec-Terrain® Traction Management System will come in handy, too.
Jeep Wrangler 4-Door Rubicon 4×4

Toyota FJ Cruiser 4×4

Approach/Departure/Breakover Angles

44/37/27.8 degrees

34/31/27 degrees

Ground Clearance

10.8 in.

9.6 in.

Water Fording Depth

30 in.

27.5 in.
The new Jeep Wrangler has a slight edge in ground clearance and can ford through deeper waters, but both vehicles are quite competent in this area. They also share all-terrain tires and rock rails to help protect your door sills from damaging debris.
Jeep SUV: Safety with Driver Assistance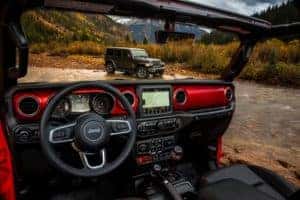 The wholesale adoption of driver-assistance features has been one of the most important developments in the auto industry over the past few years. Even off-roaders like the Jeep Wrangler now have the latest in active safety! The discontinued FJ Cruiser has missed out on this development.
The Wrangler makes the ParkView® Rear Back Up Camera standard. The FJ Cruiser, lacking a dashboard-mounted touchscreen, has no similar feature. It also lacks the list of available safety features you'll find in the Jeep SUV, including:
Adaptive Cruise Control with Stop and Go
Blind Spot Monitoring with Rear Cross Path Detection
Forward Collision Warning with Active Braking
During nighttime driving, the Wrangler's available Automatic High-Beam Headlamps are handy to have. They can sense when they're needed and when they're not and will dim themselves for oncoming traffic.
Jeep Wrangler vs FJ Cruiser: Performance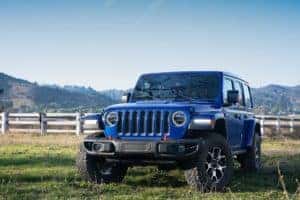 Before we leave you, let's take a look at what powers (and has powered) these two off-road SUVs. The Toyota FJ Cruiser relied on one sole engine: a 4.0L V6 that supplied up to 260 horsepower. That's fairly comparable to what you'll see from the modern Jeep Wrangler.
The key difference? The 2020 Wrangler offers three engines, each tuned to different driving needs. Ol' reliable—the classic 3.6L Pentastar® V6—sees up to 285 horsepower. Meanwhile, a 2.0L Turbo engine and 3.0L EcoDiesel engine are available to boost fuel economy.
Efficiency is where the Wrangler rises above the old FJ Cruiser. The FJ Cruiser earned an EPA-estimated 16 city/20 highway MPG. By contrast, the Wrangler gets an EPA-estimated 22 city/29 highway MPG with that available 3.0L EcoDiesel engine.
For many years, off-roaders weren't known for fuel economy. But Jeep SUVs have taken great strides to change that perception. Word has it a plug-in hybrid Wrangler is on the way!
What is Better: FJ Cruiser or Jeep?
We hope you found this car comparison enlightening! The 2020 Jeep Wrangler and the used Toyota FJ Cruiser are quite popular in the off-road market. If you want a fresh balance of advanced tech, modern design, and rugged capability, the Wrangler is the real standout here.
Mansfield, Norton, and Attleboro, MA, shoppers can check out new and used Jeep Wrangler SUVs at our dealership. Book your test drive at Station Chrysler Jeep today!