Jeep Wrangler vs FJ Cruiser


Looking for your next off-road cruiser? We don't blame you! Who wouldn't want to take on the terrains of Mansfield, Attleboro, and Norton? Odds are, you've come across the 2017 Jeep Wrangler and Toyota FJ Cruiser in your research.
Our team at Station Chrysler Jeep came up with this Jeep Wrangler vs. FJ Cruiser comparison to give you the complete rundown on what you can expect in both capable cruisers, and decide for yourself which one will work best for your lifestyle. We'll go over interior space, engine power, fuel economy, and more!
Let's get started with the engine power of the Wrangler vs. FJ Cruiser…
Jeep Wrangler vs FJ Cruiser: Engine Power & Performance
An off-roader needs a lot of power to take on those rough paths. The 2017 Jeep Wrangler comes equipped with a 3.6L V6 engine that puts out 285 horsepower and 260 lb-ft of torque, while the FJ Cruiser has a 4.0L V6 with 260 horsepower.
In terms of fuel economy, the Wrangler takes the lead, with an EPA-estimated 17/21 MPG city/highway. The FJ Cruiser follows closely behind, though, with an EPA-estimated 16/20 MPG city/highway. So, with either option, you'll be good to get lost off the beaten path for a while.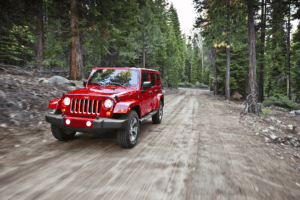 Wrangling and Cruising Off the Grid
Excuse the terrible puns, but we have to point out the off-road capabilities of both the Jeep Wrangler and Toyota FJ Cruiser.
Both vehicles can take on tough roads with ease, although the Wrangler offers different trim levels depending on your off-roading preferences, while the FJ Cruiser comes in one trim-and one trim only.
Inside the 2017 Jeep Wrangler and Toyota FJ Cruiser
The interiors of the Wrangler and the FJ Cruiser might not be the first aspects to consider when deciding between the two, but it's definitely something to consider-especially when you'll have a few friends that will want to hop in these cool rides.
The Wrangler and Cruiser are made to get dirty, inside and out. The interiors of both are made with hard plastics, so you'll have no issues cleaning the interior after your next camping trip.
However, the Wrangler has one feature that the FJ Cruiser doesn't: the iconic removal of the roof and doors. So, take a cruise to the beach and get a tan with the top off or simply use it to hose down your interior.
2017 Jeep Wrangler vs Toyota FJ Cruiser: The Results
With two awesome off-roading vehicles, it can be hard to distinguish which is the better pick. However, with the Wrangler's power, different trim levels, and ability to take the roof and doors off, we think this one is worth a test drive.
If you think the 2017 Jeep Wrangler is the SUV for you, contact us at Station Chrysler Jeep today! We'll get you set up with a test drive, and answer all your questions regarding the Wrangler. We look forward to speaking with you!