Shop Old-Fashioned American Values at the Old Country Store & Emporium

Imagine a shopping experience that lets you step back in history—to your own childhood, sure, but also back to "old-tyme" America. The Old Country Store and Emporium is your portal to an era long past. It's been family-owned and -operated for more than 190 years.
Yes, you read that right! This Mansfield country store has been spreading American values since 1829. If you want to shop old-country furniture, décor, and sweets, see what they have in store for you.
A Mainstay Since the Jacksonian Era
When the Old Country Store and Emporium opened its doors, President John Quincy Adams was leaving office and Andrew Jackson was being sworn in. The country store has been in operation ever since.
Back in the old days, the store served West Mansfield Village well. It supplied the community with their rum, molasses, tea, coffee, meat, cheese, and more. For a time, it even served as the local post office. Though a fire burned the original structure to the ground, it was rebuilt bigger and better than ever.
Today, the store's 13 unique rooms let you step into an authentic New England country store setting. You can shop "old-tyme" gifts, decorations, and knickknacks at a slower, simpler pace.
From 10-Cent Candy to Player Pianos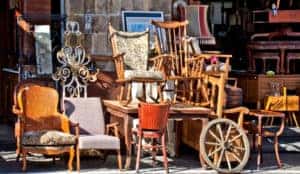 As you shop the Old Country Store and Emporium, you can listen to familiar tunes from the coinola and player piano. It's the perfect soundtrack for this old-fashioned American experience.
Looking for traditional furniture? Venture into The Barn and The Emporium and view their collection of dining room tables, couches, and even heirloom clocks. They have the décor to complement any room and complete your home.
Sweets make great gifts—or treats for yourself as you peruse this enchanting country store! With more than 15 flavors of homemade fudge and their very own 10-cent candy counter, this store appeals to the kid in all of us.
Find Your Place in American History
As Jacksonian Democracy spread across the nation, the tastes of the common man were elevated above all else. The Old Country Store and Emporium has thrived through the centuries by catering to the same tastes. Mansfield residents won't want to miss it! Check out their website today.