Oil Change Norton MA

Routine oil changes are the easiest way to keep your engine running at its best. At Station Chrysler Jeep, we can help you with your next oil change near Norton, MA.
Our team of technicians will change your oil and filter and get you back out on the roads in no time. You can embark on your next road trek with more confidence behind the wheel! Learn more about what we can do for you below.
Oil Changes by the Experts
Oil changes are a quick service. In fact, when you schedule service for an oil change with us, you shouldn't need to wait more than 15 to 30 minutes. Our certified technicians are trained and experienced when it comes to oil service on any vehicle.
We'll switch out your old oil for the fresh stuff, using the oil type and brand detailed in your maintenance schedule. In addition, we'll change the oil filter, too, helping keep your engine clean and ready to go for as long as possible.
Before you schedule service with us, check out our selection of service specials. You may come across top deals and discounts on your next oil change at our dealership!
Oil Changes—How Often?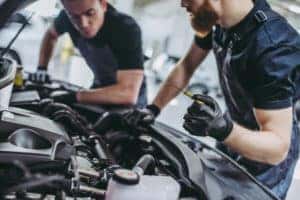 Chrysler cars stand out on the roads, and Jeep vehicles are always ready for rugged adventure. Over time, those adventures can take their toll, and you'll need oil changes to keep your engine running smoothly.
Whether you drive a Jeep, Chrysler, or another vehicle entirely, you'll want to stay on top of oil changes. A good rule of thumb is to have your oil changed every 6 months or 6,000 miles. This will ensure that your oil is fresh and able to keep engine parts well-lubricated.
Without oil changes, the parts inside your engine will wear down more quickly. They may even generate enough friction to cause your engine to overheat. That can be a costly fix, which is why routine oil changes are a better bet.
About Norton MA
Once you've had your oil changed, you can get back on the roads of Norton. This Massachusetts town has all sorts of interesting activities to offer. You can check out King Phillip's Cave. It's rumored that this was the hiding spot of Metacomet, the Wampanoag sachem, before he was defeated in King Phillip's War.
Norton is generally low-lying and located near swampland. Its waters are fed by the Canoe River and the Wading River, and Hockomock Swamp is just a short drive away. You can go for a hike and check out the natural wildlife!
Schedule Your Oil Change Today!
Has it been awhile since your last oil change near Norton, MA? If so, you don't want to wait around. Make an appointment at the Station Chrysler Jeep Service Center. Our expert technicians will perform your oil service and have your ride ready for the roads again.
We can handle your other routine service items, too, from brake repair to tire rotations. We look forward to serving you!