Why Lease a Jeep Compass?

If you're looking for the off-road capability and overall utility of a full-size Jeep, but you want it in a compact size, the new Jeep Compass is the perfect choice for you. This compact crossover combines a powerful engine, an upscale cabin, and remarkable off-road prowess, along with some of the most impressive technology on the market.
With a lease, you can enjoy the newest Jeep Compass features and technology, all without worrying about the resale value in the future. Find out why leasing a Jeep Compass is a great option, and see how we can help you get behind the wheel of your favorite vehicle.
Buy vs Lease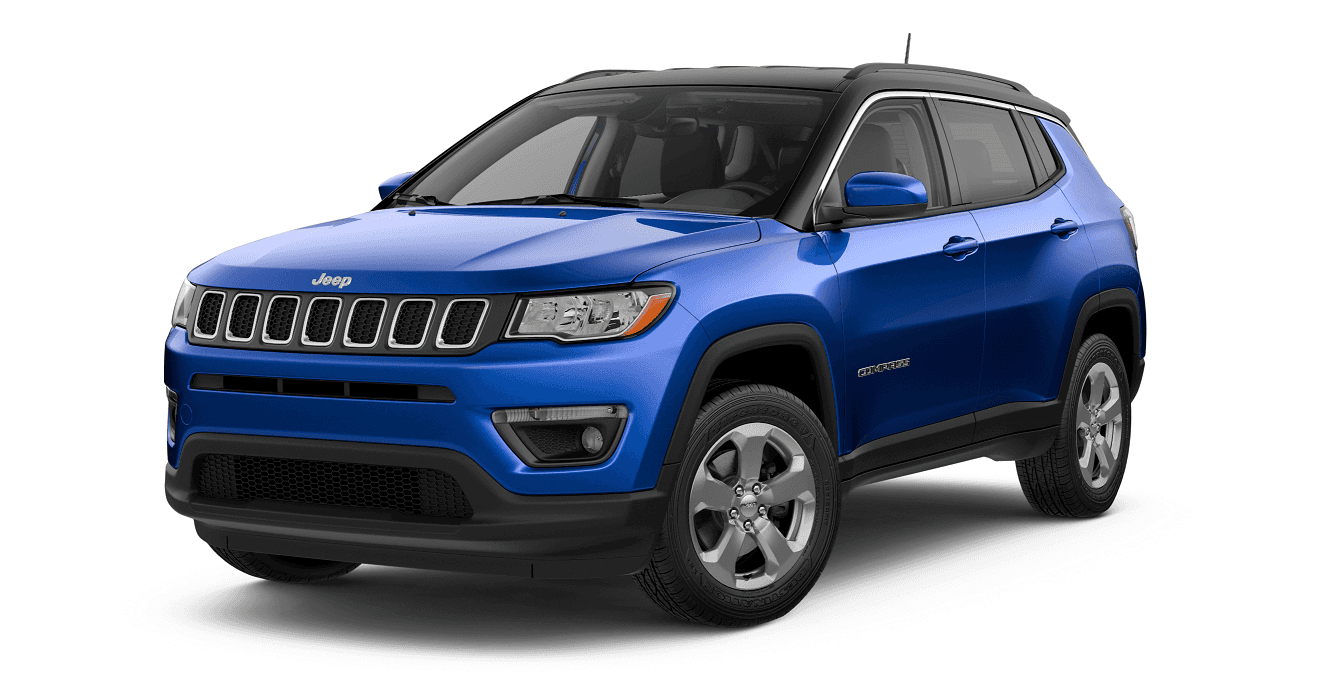 Once reserved for businessmen looking to have the hottest new luxury cars, leasing is now a popular option for all types of drivers. In fact, leasing has a few distinctive advantages over buying new, such as lower monthly payments, little or no down payment, and no worry of depreciation in the first few years of the vehicle's life. This also means you may be able to afford a better vehicle than you initially thought.
The maintenance and repairs are usually covered in the warranty as well, and since it's a newer vehicle, you're unlikely to run into too many problems. Once the lease is up, you just return your vehicle to the dealership and decide on your next vehicle option.
Also, if you're the type to want the newest connectivity and entertainment technology, you need to have the newest cars on the market. Granted, some technology will roll over from year to year, but you won't find the same features in a car that's several years old as you would in a brand-new model.
About the New Jeep Compass
Like every other Jeep model in the lineup, the Jeep Compass keeps building on its previous models to offer a compact SUV that dramatically outperforms its competitors. The Compass not only has a well-appointed interior with comfortable seating and high-end accents, but it also has technology like the Uconnect® infotainment system, Bluetooth®, smartphone integration, and satellite radio.
The Jeep Compass also has a competent engine that is equally comfortable on pavement or the dusty trails. It provides plenty of off-road features, such as Active Drive 4-wheel drive, tow hooks, skid plates, all-terrain tires, an off-road suspension, and the Selec-Terrain® Management System, which offers traction settings for Sand, Snow, Mud, and Auto, with a Rock setting for the Trailhawk.
This combination of features and capability is difficult to find in many compact SUVs, which is why the Jeep Compass is such a great choice for so many drivers. Whether you're just dipping your toes in off-roading for the first time, or you want to see if the Compass has the road manners and entertainment features you want for the commute, leasing is a great way to test the waters without committing to the Compass long term.
Find Your Jeep Compass Lease
Now that you understand why lease a Jeep Compass, contact Station Chrysler Jeep to see what we have to offer. We have a wide selection of Jeep Compass models in a range of features and trim levels, so call or stop by our Jeep dealership near Mansfield, Attleboro, and Norton today to schedule your test drive!